Same Day Music is an
authorized Yamaha dealer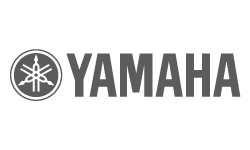 Stylish and compact, the Yamaha YDP-S52 digital piano offers authentic piano performance in an smart, practical design available in both black and white wood finishes that are the perfect complement to any room.
The YDP-S52 is equipped with a PureCF sound engine. This piano sound was recorded from Yamaha's renowned CFIIIS concert grand piano, heard on stages all over the world. It also offers an authentic performance experience, allowing for rich, natural reverberation even on complex passages with flurries of notes and extensive use of the pedal. The YDP-S52 lets you to enjoy relaxed, stress-free playing whether you're practicing at home or playing during lessons.
Enjoy authentic grand piano touch with the feel of this synthetic ivory keyboard. The keys absorb moisture from your fingers while you play to prevent slipping and keep you comfortable.
Reverb that reproduces the distinctive ambience of a wide range of performance venues.
These professional quality effects reproduce the natural reverberation heard in concert halls and other performance venues. Enjoy the ambience of concert hall recitals, live gigs in jazz clubs and more, all in the comfort of your own home.
- Recital hall: Clear reverberation, as heard in a medium-size hall used for piano recitals.
- Concert hall: Bright and gorgeous reverb sound, as heard in a large concert hall for orchestral performances.
- Chamber: Suitable for playing chamber music, the intimate reverb sound in a spacious room, as experienced during classical music recitals.
- Club: The vivid reverb sound in a live music venue or jazz club.
Stereophonic Optimizer: a new kind of headphone experience
Unique to Yamaha, the Stereophonic Optimizer adjusts the sound when listening via headphones, giving you the feeling that you're hearing the piano as if you didn't have headphones on!
Intelligent Acoustic Control (IAC)
The YDSP-S52 is equipped with Intelligent Acoustic Control (IAC), which adjusts the sound automatically, allowing players to enjoy balanced sound at any volume level.
Acoustic Optimizer
The body of the YDP-S52 contains Acoustic Optimizers that physically regulate the flow of sound and control tone. A new technology developed from Yamaha's intimate knowledge of the acoustic properties of musical instruments, Acoustic Optimizers deliver a natural, smooth sound across the entire keyboard.
Same Day Music is an authorized dealer of
Yamaha
products.
- Dimensions: (W x H x D) 1353 x 792 x 309mm
- Weight: 37.8 kg
- Number of Keys: 88
- Type: Graded hammer (GH) keyboard with Synthetic ivory keytops
- Touch Sensitivity: Hard/Medium/Soft/Fixed
- Number of Pedals: 3
- Half Pedal: Yes
- Functions: Damper/Sostenuto/Soft
- Language: English
- Key Cover: Key Cover Style Folding
- Music Rest: Yes
- Tone Generating Technology: PureCF Sound Engine
- Polyphony: Number of Polyphony (Max.) 192
- Number of Voices: 10
- Effects Types: Reverb Yes (four types)
- Intelligent Acoustic Control (IAC): Yes
- Stereophonic Optimizer: Yes
- Damper Resonance: Yes
- Dual/Layers: Yes
- Duo: Yes
- Number of Preset Songs: 10 Demo Songs, 50 Piano Preset Songs
- Recording Number of Songs: 1
- Number of Tracks: 2
- Data Capacity: 100 KB per song (approx. 11,000 notes)
- Compatible Data Format:
- Playback: SMF (format 0, format 1)
- Recording: SMF (format 0)
- Metronome: Yes
- Tempo Range: 5 - 280
- Transpose: -6 to 0,0 to +6
- Tuning: 414.8 - 440.0 - 466.8 Hz
- Internal Memory: Total maximum size approx. 900 KB (User song: One song approx. 100 KB, Loading song data from a computer: Up to 10 Songs)
- Headphones: Standard stereo phone jack x 2
- USB TO HOST: Yes
- Amplifiers: 20 W x 2
- Speakers: Oval (12 cm x 6 cm) x 2
- Acoustic Optimizer: Yes
- Power Supply: PA-300C or an equivalent recommended by Yamaha
- Auto Power Off: Yes
- Power Consumption: 14 W (When using PA-300C AC adapter)
- Included Accessories: Song Book: 50 Greats for Piano (Music Book)
Same Day Music is an authorized dealer of
Yamaha
products.
Shipping Weights and Dimensions

Shipping Weight: 110 lbs
Shipping Dimensions: 57 x 21 x 17 in