Same Day Music is an
authorized Fishman dealer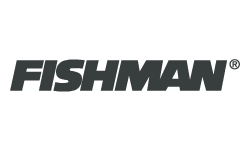 The Fishman TriplePlay presents the best MIDI guitar controller technology the world has seen, expanding the creative possibilities of the guitar for enthusiasts and experienced musicians alike. Adding value to one of the most innovative breakthroughs in music product and MIDI-based technology, TriplePlay ships with a comprehensive suite of full version software from PreSonus (StudioOne Artist), Native Instruments (Kontakt Elements and GuitarRig LE), IK Multimedia (SampleTank and Amplitude Custom Shop) and Notion Music (PROGRESSION 2).
As you're no doubt aware, TriplePlay is conceived and designed to make composing, performance and recording easy and fun. Its slim, intuitive form factor lets guitarists get to an unlimited palette of instruments and sounds at their fingertips, all with the freedom of wireless control via MIDI. The creative and sonic possibilities are endless.
With TriplePlay and PROGRESSION 2, guitarists can write music in guitar tab or notation for lead sheets and sheet music, and hear it play back instantly with real instrument samples and an audio track of their work. Changes to tab, notation, key or tempo can be made quickly and easily.
Combined with TriplePlay in live performance, Kontakt Elements and SampleTank XE frees guitarists to play with any virtual instrument or hardware synthesizer with faster, more accurate tracking that virtually eliminates lag. Features include sustain and looping functions with support for MIDI footswitches and controllers. A virtually unlimited supply of guitar, tone and effects and amplifier modeling options are available with GuitarRig LE and Amplitude software.
TriplePlay quickly and easily becomes a complete music recording and production tool that allows the guitar to be seamlessly integrated with a favorite DAW running on a PC, Mac or iPad. Using PreSonus StudioOne, guitarists can build entire arrangements with drums, bass, keyboards, horns, strings, voices and more, wirelessly. Guitarists can play along with backing tracks to record, enhance live performances, and make practicing easier and more entertaining.
TriplePlay comes equipped with a wireless controller, hexaphonic pickup, and wireless USB receiver. The controller and pickup can be quickly installed or removed on virtually any electric guitar with no permanent installation necessary.
A low profile design (less than .5") allows the Controller to be left on the guitar and still fit in the case. It operates with a rechargeable Lithium Ion battery (included). TriplePlay's powered USB Wireless Receiver interfaces with computers and iOS devices.
Unlock your guitar's potential!
TriplePlay is the composing, performing and recording system that puts an unlimited palette of instruments and sounds at your fingertips - all with the freedom of wireless control. Compose music with unparalleled tonal options. Easily share arrangements with your band. Switch between instruments, or play up to four instruments at the same time. Teach or learn faster with accurate notation. Create video soundtracks. Mix your own samples, beats, loops and tracks.
Easy to use
The controller's durable, low profile design fits neatly behind your guitar's bridge, and it's wireless, so no heavy 13-pin cables to trip over. The rechargeable Lithium Ion battery has over 20 hours of life - plenty of juice for a full day of composing and a night of gigging. Accessible onboard menu navigation buttons, volume control, and the guitar/mix/synth switch make it easy to change settings or instruments during performances.
Easy setup, easy removal
TriplePlay can be installed or removed quickly, on virtually any electric guitar, with no permanent installation necessary. Mounting hardward included.
Complete Software Suite Included
TriplePlay comes complete with all the software you'll need for recording, editing and playing back your music. Take full advantage of powerful MIDI features with your guitar. With the easy and blazingly fast note encoding, preset editor and mixing console, you'll be mixing your own music in no time. Includes full versions of:
- Native Instruments - Kontakt Elements and GuitarRig LE
- Notion Music - PROGRESSION
- IK Multimedia - SampleTank 2 XT and AmpliTube Custom Shop
- PreSonus - Studio One Artist TriplePlay Edition
Features:
- Two input channels with 3-band EQ
- Includes Wireless Controller, Hexaphonic Pickup, and Wireless USB Receiver, mounting brackets and hardware, fast charge power pack, and USB charging cable
- Wireless technology eliminates proprietary bulky cables
- Works with industry standard DAWs and Virtual Instruments
- Unique "hold" feature and string or fret splits with multiple instruments
- Simple to install on your electric guitar and can be easily removed
- Low profile design (less than .5") can be left on your guitar and still fit in its case
- Over 100 foot range
- Operates with rechargeable Lithium Ion battery (included)
- Menu navigation controls
- Guitar, Mix, Synth switch easily accessible while performing
- Guitar synthesizer volume control
- USB powered wireless receiver interfaces to computer or iOS device
- Includes comprehensive software suite to get you started
Same Day Music is an authorized dealer of
Fishman
products.
- Material: Durable composite and metal finish
- RF Range: 100 feet*
- Controller Dimensions: 3.25" H (82.5mm) x 2.93" W (74.4mm) x 0.51" D (12.9mm)
- Power: Rechargeable Lithium Ion battery
- Battery Life: Over 20 hours
- Pickup Dimensions: 4.11" L (104.4mm) x 0.34" W (8.6mm)
- Pickup Height Adjustable Range: .35" min. (8.9mm) to .58" (14.7mm) max. from tallest point between G & D strings
- * Performance may vary - North American model only.
Wireless USB Receiver:
- Processor: 16-bit processing
- Material: Durable composite
- Dimensions: 2.7" H (68.6mm) x .82" W (20.8mm) x .36" D (9.1mm)
- Power: USB Power
System Requirements:
- Internet: Standard broadband connection to download and authenticate software
- Hardware: 4 GB of RAM and 10 GB free hard drive space
- Platforms: Windows 7 or later , OS X 10.6.0 or later
Same Day Music is an authorized dealer of
Fishman
products.
Shipping Weights and Dimensions

Shipping Weight: 2 lbs
Shipping Dimensions: 7 x 6 x 3 in