Same Day Music is an
authorized Casio dealer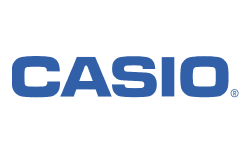 At the center of the Casio PX-360 is the Color Touch Interface. It is a bright, clear 5.3" display that has a full color palette and responds immediately to your touch. With this intuitive panel, you can explore the PX-360 with ease, with all the right information at your fingertips. The elegant, simple interface uses universally recognizable icons that help you take full advantage of the PX-360's diverse sounds and features.
Matching the high quality of the keys is an immersive and authentic 9-foot concert grand piano sound powered by Casio's powerful AiR (Acoustic and Intelligent Resonator) Sound Source. It uses Linear Morphing technology to create smooth, dynamic transitions from the softest to loudest sounds, as well as Damper Resonance to accurately recreate the experience of the strings resonating against the piano's soundboard when the damper pedal is pressed. String Resonance accurately models the harmonic relationships between the vibrating strings, allowing the notes to interact with one another. Hammer Response allows control over the time between pressing the key and hearing the strings, and Key Off Simulation allows control of a note's decay by how quickly the key is released. Connect the optional SP-33 pedal system to utilize soft, sostenuto, and damper pedals.
The PX-360 includes 550 Tones, covering a huge variety of musical instruments. You'll find expressive guitars, basses, strings, drums, and much more, polished with a powerful effect system. Accompany your playing with over 200 Rhythms, which provide multiple instruments that follow your playing, covering a wide spectrum of musical styles. In addition to exploring the built-in Tones and Rhythms, you can use the built-in Rhythm Editor to assemble 10 customized User Rhythms using various basslines, drum grooves, and other accompaniment parts. You can also create 50 of your own Music Presets, which encompass a Rhythm, Tones, effects, and chord progressions.
The PX-360 is always ready to take the stage. It is highly transportable, weighing in at a mere 26 pounds. It fits neatly on nearly any keyboard stand for live performance. Its 1/4" outputs can connect to any amplification source, and thoughtful additions such as MIDI I/O and 1/4" inputs give you incredible convenience for multi-keyboard rigs.
Place the PX-360 atop the optional CS-67P stand, and it becomes a beautiful addition to any home. Adding the optional SP-33 3-pedal unit will provide realistic soft, sostenuto, and damper pedals, fixed in place for an accurate piano experience. The built-in speaker system easily fills your home with beautiful sound. You can even connect your favorite music player to its audio input, creating the ultimate music dock!
When inspiration strikes, it's critical to be able to record quickly. The PX-360 lets you do just that, recording audio directly to a USB stick. Should you want to create a complete musical production, you can also use the built-in 16-track MIDI recorder. You'll see familiar recording controls on the Color Touch Interface, making the recording process smooth and simple.
The PX-360 has incredible music education potential, with features designed for lessons and music labs. Duet mode splits the keyboard into two equal ranges, allowing a teacher and student (or two students) to play side by side on a single instrument. Classroom mode adds the ability to send each side to an individual audio output, making it compatible with the most popular third party piano lab systems. Two front panel-mounted headphone jacks also make the PX-360 perfect for quiet practice or lessons.
The PX-360's class-compliant USB port connects to a PC, Mac, or iOS device with no driver installation. Easily control your favorite music software, without any extra setup.
Same Day Music is an authorized dealer of
Casio
products.
- Number of sensors: 3
- Action: Tri-sensor Scaled Hammer Action Keyboard II
- Key surface finish: Simulated ebony and ivory keys
- Touch sensitivity: 3 sensitivity levels, off
- Sound Source: Multi-dimensional Morphing AiR Sound Source
- Max. Polyphony: 128
- Number of Built-in Tones: 550
- Digital Reverb: 17 types
- Chorus: 16 types
- Delay: 6 types
- Master EQ: Brilliance (-3 ~ 0 ~ +3)
- Key Transpose: 25 steps (-12 semitones ~ 0 ~ +12 semitones)
- Tuning Control: A4 = 415.5Hz ~ 440.0Hz ~ 465.9Hz
- Preset Temperaments: 17 Types
- Number of Built-in Rhythms: 200
- User Rhythms: 10
- Number of User Songs (Song Expansion): 100
- Capacity for User Songs: 32MB
- Demo Songs: 6
- Lesson Function: Part ON / OFF (16ch Mixer)
- Tempo Setting: 20 ~ 255BPM
- Number of Built-in Presets: 305
- User Presets: 50
- Number of Setups: 96 (4 areas x 24 banks)
- Number of Songs: 100
Number of Track: 16 Multi Track + 1 System Track
- - Capacity per song: Approximately 50,000 notes
Recording Function: Real-Time Recording, Punch-in/out
- Song Edit: Delete, Copy, Rename
- Track Edit: Delete, Copy, Rename
- Number of Songs: 100
- Recording Spec: Recording / Playback
- Recording Format: .wav (16bit, 44.1 kHz, Stereo)
- Length of Recording per song: Approximately 74 minutes
- Display: 5.3" Color Touch Panel
- PHONES: 2 (3.5mm Stereo Mini, Front)
- LINE IN: Yes (L/MONO, R: 6.3mm Mono Standard)
- LINE OUT: Yes (L/MONO, R: 6.3mm Mono Standard)
- AUDIO IN: Yes (3.5mm Stereo Mini)
- Speakers: 12cm x 2, 5cm x 2
- Amplifiers: 8 W + 8 W
- Power Source: DC 12 V
- Power Supply: AC Adapter: AD-A12150LW
- Power Consumption: 10 W
- Included Accessories: Pedal, AC Adapter, Score Stand
- Dimensions: 52.0 x 11.5 x 5.5"
- Weight: 26.2 lbs.
Same Day Music is an authorized dealer of
Casio
products.
Shipping Weights and Dimensions

Shipping Weight: 36 lbs
Shipping Dimensions: 58 x 14 x 8 in